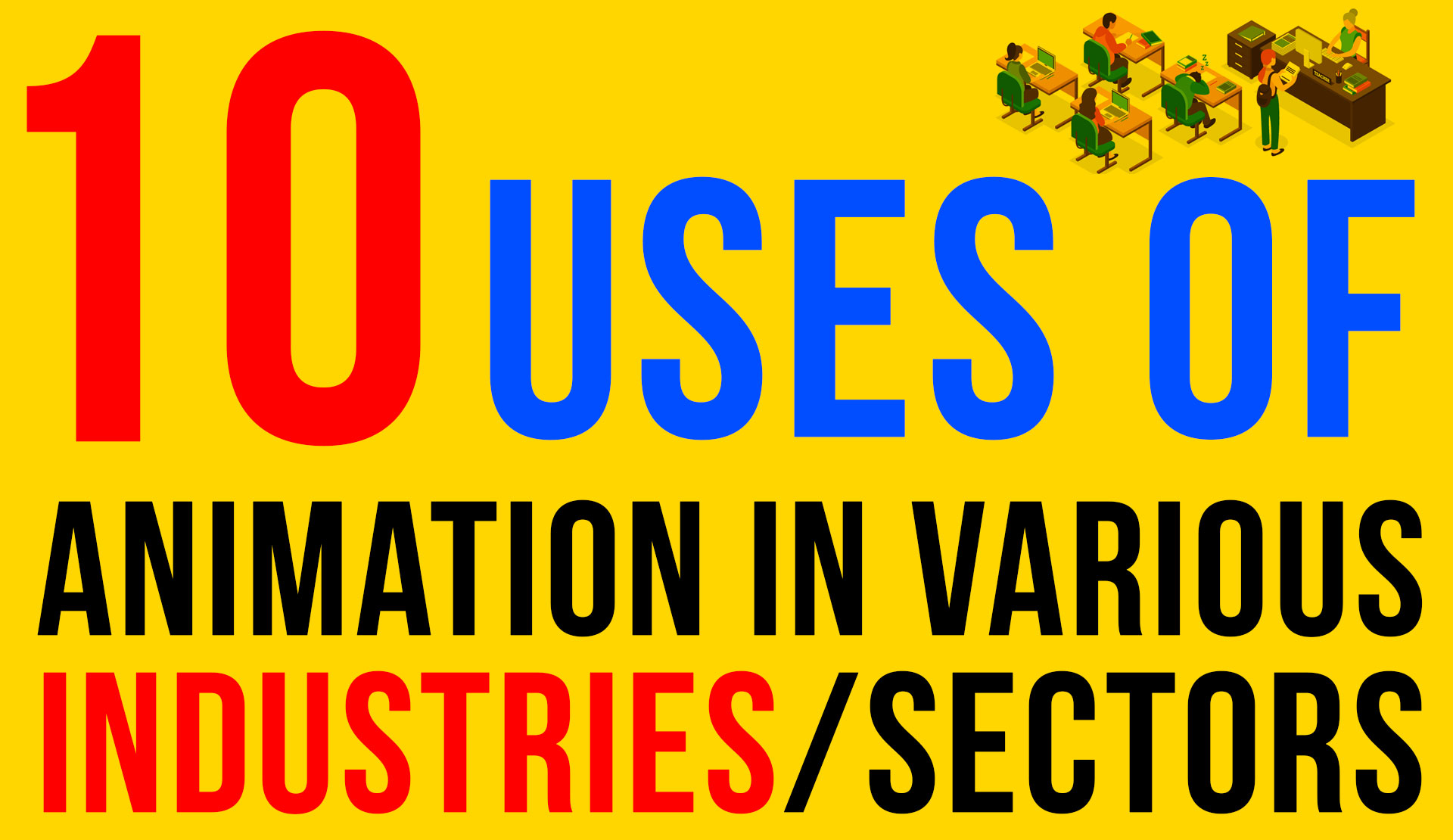 Animation is an imitation of real-world characters and objects through moving pictures. Animation has evolved tremendously since its inception. Most animations are developed using CGI or computer-generated images. Still, images moving at a certain number of frames per second lead to an illusion of continuous motion. The animation effect is achieved by moving images sequentially in quick succession. The difference between two consecutive images is made minimal so that the human eye fails to understand the same during the transition of images.
The perception of most people is that animation is just for entertainment. The presence of animation in our lives is much more than it looks. However, the possibilities are endless if we look at the uses of animation in various areas. Animation is available through various modes like short and feature films, special effects, motion graphics, etc.
Types of Animation

Different types of animation have been developed for different situations at various stages of evolution and are used as a powerful medium of expression.
• 2D Animation
• 3D Animation
• Animation Through Motion Graphics
• Stop Motion Animation
• Cutout and Collage Animation
• Rotoscoping
• Cel Animation
Animation Areas/Sector
Animation can be considered a unique branch of technology that can bring significant value to many business and entertainment activities. Animation is extensively used in many industries because of the advantages offered.
Let's look at some of the most important areas using animation extensively.
It is a known fact that the human mind tends to remember videos and images more than textual information. Animation can be effectively utilized for educational purposes to enhance the reception levels of students, trainees and even teachers. Animation videos bring notable changes to students' academic capabilities without second thoughts. Several education portals and organizations are using graphics, motion videos and dynamic presentations to teach complex and challenging concepts to students in an easy and understandable approach. Students can go through the content at their own pace and any number of times to understand the complex topics.
The entertainment industry is using animation very extensively for various purposes. Perhaps, Computer graphics are more widely used for entertainment than other purposes. Varying animation services are used for entertainment on various platforms such as TV, media, the internet and even smartphones. Several top animation companies provide animation services in the entertainment industry.
Animation programs are being created to entertain and teach important life lessons and moral values. Several animation series and movies are created for children and adult audiences that can be enjoyed as regular movies. Apart from movies, various cartoons and TV series are created to target a wider audience, including all age groups. Some well-known studios like Pixar, Disney, and DreamWorks are primarily involved with making animated cartoon movies.
3. Advertisement Industry
The benefits of animation in the advertising industry are pretty astounding. Advertisements are always required to be creative and connected to the real world. Animation plays a vital role in making effective commercials to quickly capture the audience's imagination and lure the audience to purchase the advertised product. The rapidly growing use of the internet has given birth to a new platform where animated advertisements are used extensively and target audiences of all age groups. Animation has been used for TV advertising for a long time. Animations make advertisements inspiring and funny and always capture the imagination of the end customer.
Animations add a lot of creativity to the marketing of any organization. It also enables any organization to reach out to more demographics. Any animated demonstration of a product is attentive and provides instant benefits. Animation can be a great conversion medium.
5. Scientific Visualization
Animation is widely used to create accurate and representative scientific visualization. Animation can be used for research as well as analytical studies. It can be effectively used to create and demonstrate 3D models for various objects for realistic visualizations.
6. Arts
Animation is extensively used to demonstrate creative skills. For example, creative arts can be designed as a computer course. Courses can utilize animation to get the education across the class by leveraging various presentations, models and diagrams. Making animation requires an animator to be creative and make animations that replicate the real world.
7. Gaming Industry
The gaming industry is using animation extensively compared to any other industry. Any game today consists of 3d characters, which are created using animation. The entire gaming industry is dependent on these 3D animations. Every game is modelled and created using animation. Graphic professionals do many modelling practices like texturing, lighting and rigging as clients require. Animation is being used for video and online games, and its use is increasing daily.
Animation simulations are used in areas where real-life training of an individual or group is dangerous or cannot be controlled. For instance, military training exercises or firefighting training are adequate examples for simulation animation. Simulations are also used for training fighter pilots as well as commercial airlines pilots without investing on machine and fuel as well as avoiding damage to any trainee. A lot of companies are using simulation to predict the outcome of a range of activities.
9. Retail Industry
The retail industry is one of the most profitable industries using animation. Animations are extensively by marketers to showcase the product to customers. 3D animation models and videos can lucidly incorporate a product's features and benefits. The use of animation in the retail industry is rising incredibly. Animations are being used to quickly display microscopic features and objects from multiple angles, especially when such features are challenging to photograph. 3D animations are especially beneficial in demonstrating product features.
10. Architecture and Engineering Industry
3D animation has helped the marketing mechanism of the real estate and engineering industry in a great manner. Proposed designs are required to be explained to potential customers in a simplified manner in Architecture projects. 3d animations in architecture can be designed quickly and involve reasonable costs. This makes animation very important for architecture. Interpretation process of the structure of the buildings is simplified with ease using animation. Construction companies can integrate all the intrinsic details of the proposed plans using animations.
Apart from the above most widely acknowledged areas, animation can also be used in the medical and manufacturing industries. With the advances in technology, animations demand has increased a lot. The demand for professional animation service providers has also been boosted by increased demand. 3D animation is most widely used for the creation of animation projects. Animation is an industry that will keep on evolving with time and holds a hold of potential.